A Song for Katthy, 2022
HD single channel video
16:21mins

Vocalist: Joanna Fabro
Videographer and Editor: EO Gill
Sound: Felix Abrahams
Colourist: Julien Chichignoud
Lighting: Carina Burke
Production Assistant: Robbie Wardhaugh
Hair and Makeup Artist: Leila El Rayes

With accompanying image series by Samuel Hodge
This project was supported by the NSW Government through Create NSW
Suspended Moment Tour
Meatus

, 2022
Australian Centre for Contemporary Art, Melbourne
2 April – 19 June 2022

A project led by Frances Barrett with Debris Facility Pty Ltd, Hayley Forward, Brian Fuata, Del Lumanta, Sione Teumohenga and Nina Buchanan.

Commissioning curator: Annika Kristensen
Audio Engineer: Felix Abrahams

Exhibition details
ACCA installation image, Photo: Andrew Curtis. Image courtesy ACCA, Naarm Melbourne.

This project has been assisted by the Australian Government throught the Australia Council, its arts funding and advisory body.

Commissioned by ACCA with the support of the Katthy Cavaliere Foundation. Supported by Yamaha, Copyright Agency Fund, aFX Global, Dulux, Bruce Parncutt AO, and Monash Art Design and Architecture.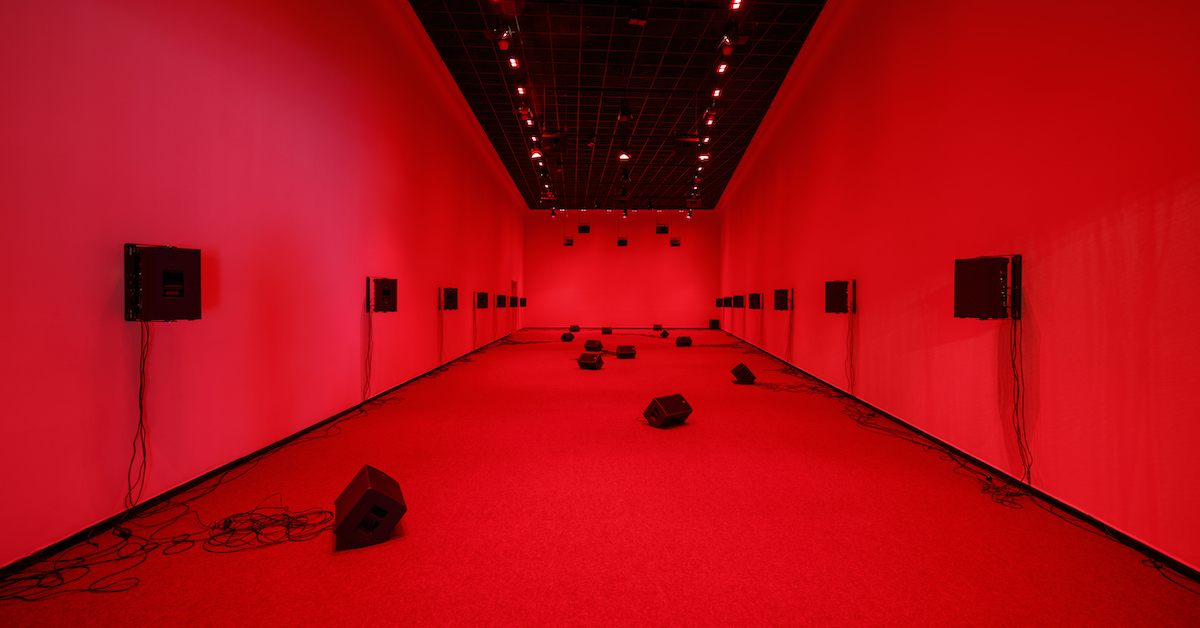 Curator's Talk, 2020-2022
Performed on 2 April 2022
Live performance and publication

Live performance with Hayley Forward
Publication Design: Ella Sutherland
Link to p

ublication
Supported by Monash Art Design and Architecture Curatorial Practice PhD Program
Barbara Cleveland

Barbara Cleveland is an Australian artist collective directed by Diana Baker Smith, Frances Barrett, Kate Blackmore, and Kelly Doley. Their most recent projects have been presented at 20th Biennale of Sydney, 2018 Adelaide Biennial, Art Gallery of NSW (Sydney), Museum of Contemporary Art (Sydney), Artspace (Sydney), Monash University Museum of Art (Melbourne), Australian Experimental Art Foundation (Adelaide), The Physics Room (Christchurch), National Museum of Modern and Contemporary Art (Seoul), and Hayward Gallery (London).

Barbara Cleveland are represented by Sullivan + Strumpf, Sydney



Barbara Cleveland website
This is a stained glass window, 2019
HD single channel video
13:28 mins

Concept and Direction: Diana Baker Smith, Frances Barrett, Kate Blackmore and Kelly Doley
Composer: Corin Ileto
Video editing: Kate Blackmore
Colourist: Julien Chichignoud
Sound Mixer: Lachlan Harris

Thinking Business Tour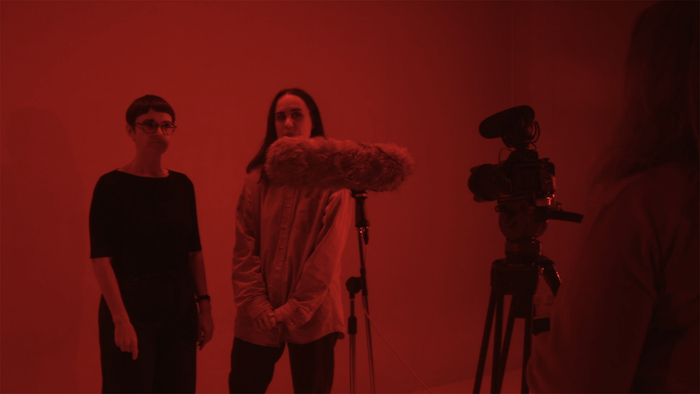 All Ears: A listening party, 2018
Live performance program
Campbelltown Arts Centre
1 September 2018

Co-curated with Jessica Olivieri
Artists: Alissar Gazal, Brian Fuata, Emily Crocker, Jax Jacki Brown, Nina Buchanan, Samia Sayed, Enoch Mailangi, Kilia Tipa, Marcus Whale, 2 Boys in Saris, Hayley Forward and Kate Britton

Listen to audio documentation:


The Third Ear



Download program:


All Ears: A listening party
Image: Peter Rubie
Handle, 2018
HD single channel video
11:58 mins

Cinematography and Editing: Justin Balmain
Music and Sound Mastering: Andrew McLellan
With Amelia Wallin, Marcia Acita, Mark DeLura, CJ Matherne, Chandler Hubbard, Amy Linker, and staff of the Hessel Museum of Art.

Commissioned for More than mere jelly
April 8 – May 27, 2018
Curated by Amelia Wallin

More than mere jelly exhibition catalogue
Into my Arms, 2018
Exhibition and live performance program
Ace Open, Kaurna Yarta, Adelaide
11 May - 7 July 2018

Co-curated with Toby Chapman
Artists: Amira.h., Katherine Botten, Eugene Choi, Matt Huppatz, Lonelyspeck, Grace Marlow, Sione Monu, Kate Power and Susie Fraser and Athena Thebus

Into my Arms pr

ogram



Image: Athena Thebus performing DOGGY, Sam Roberts Photography
Touching, 2016
HD single channel video
15:35 mins

Video: Kate Blackmore
Sound: Andrew McLellan

Image: Kate Blackmore




FM[X]: What Would A Feminist Methodology Sound Like? 2016
2-day live performance program and exhibition
Firstdraft, Sydney
1-2 September 2016

Co-curated with Danni Zuvela and Liquid Architecture
Artists: Chloe Alison Escott, Cinnamon Templeton, Clare Cooper, Coco Solid, Madboots, DJ Sezzo Snot, Evelyn Araluen Corr, Matka, Kimchi Princi, Del Lumanta, Hannah Bronte, Gabi Briggs, Leila El Rayes, Linda Dement, Lorna & Aunty Jenny Munro, Maysa Abouzeid, Rosyln Helper, Saba Vasefi and Salote Tawale.



Link to the FM[X] Program
Image: Leila El Rayes performing, Jek Maurer Photography
The Wrestle, 2015
HD single channel video
18:33 mins
Live performance on 29 May 2015 with Toby Chapman
Presented as part of 48Hr Incident
4A Centre for Contemporary Asian Art

Co-curated by Pedro de Almeida, Toby Chapman & Aaron Seeto.
Video: Kate Blackmore and Dara Gill
Edit: Kate Blackmore
Audio: Andrew McLellan

Image: Zan Wimberely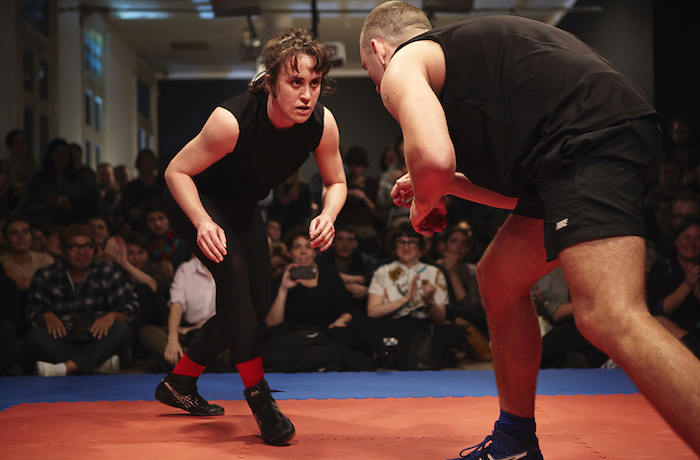 Haunting, 2015
Exhibition and live performance program
Firstdraft, Sydney
2–25 September 2015

Artists: Brian Fuata (AUS), Geo Wyeth (USA), Laboria Cuboniks (VARIOUS), Pauline Boudry and Renate Lorenz (GER), Amy Ireland (AUS) and Virginia Barratt (AUS)

Image: Zan Wimberely




Curator, 2015
24-hr live performance
Presented as part of Liquid Architecture's program FM[X]:What Would a Feminist Methodology Sound Like?
West Space, Melbourne
17-18 September 2015

Image: Keelan O'Hehir




My Safeword is Performance, 2014
HD single channel video
21:59 mins
Live performance with Ivan Crozier
Presented as part of Restaging Restaging at Alaska Projects, Sydney
Performed on 31 August 2014

Videography: Kate Blackmore and Cindy Rodrigues.
Edit: Kate Blackmore



Accompanying text to Restaging Restaging by Amelia Groom



Image: Salote Tawale
The 12-Hour Revolution, 2013
12-hour live performance
Sydney Guild, Sydney

Sound: Sam Bruce and Tom Smith

Image: Alex Wisser




Time Machine: A Festival of Experimental Time-based Art, 2012
Curated by the artist-run-initiative, Serial Space
18-29 July 2012

Serial Space Directorate: Pia van Gelder, Kate Blackmore, Tom Smith, Jennifer Hamilton and Frances Barrett

Time Capsule program with commissioned texts
Ship of Fools, 2009
24-hour live performance with Nick Sun Firstdraft, Sydney
3-4 February 2009

Image: Kat Baron